My Blog
Posts for: June, 2014
By Rolin Hills Dental Care, Inc. P.C.
June 20, 2014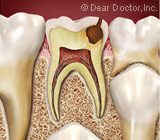 Dentists go to great lengths to save an adult permanent tooth. Even though restoration technology is incredibly advanced, none can completely replace the biological function of natural teeth. Treating a diseased tooth to preserve it is a high priority in dentistry.
It would seem, though, that a child's primary (baby) tooth might not warrant the same treatment. Since the tooth eventually detaches from the jaw to make way for a permanent tooth, why save it?
It is worth the effort, because primary teeth provide more than a chewing function: they also serve as guides for their permanent successors. When they're lost prematurely, the permanent teeth may not come in correctly, leading to a malocclusion (poor bite). Other areas of development, like speech and dental bone growth, may suffer as well from the longer time gap between the premature loss and the permanent tooth eruption.
Saving an infected primary tooth should be considered, especially if significant time remains in its lifespan. Due to differences between primary and permanent teeth, though, the treatment approach isn't the same. For example, the body gradually absorbs the roots of a primary tooth (a process called resorption) as the permanent tooth beneath erupts applying pressure to the primary roots (this is what enables its eventual detachment). Dentists must factor this process into their diagnosis and treatment plan for a primary tooth.
The level of treatment may vary depending on how deep the infection has advanced. If the decay is limited to the tooth's outer layers and only partially affects the pulp, the innermost layer of the tooth, a dentist may remove as much soft decay as possible, apply an antibacterial agent for any remaining hardened infection, and then restore the tooth with filling materials.
For deeper infection, the dentist may remove some or all of the pulp, disinfect and clean the area, and then fill and seal the empty space with a filling. A filling material like zinc oxide/eugenol paste should be used that's capable of resorption by the body to coincide with the natural root resorption. After treatment, the tooth should continue to be monitored for changes in appearance or gum swelling, just in case the infection returns or advances.
Although it may seem counterintuitive, treating a primary tooth as you would its successor is worth the effort. Your child will reap the health benefits, both now and long after the primary tooth is gone.
If you would like more information on endodontic treatment for children, please contact us or schedule an appointment for a consultation. You can also learn more about this topic by reading the Dear Doctor magazine article "Root Canal Treatment for Children's Teeth."
By Rolin Hills Dental Care, Inc. P.C.
June 05, 2014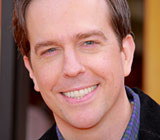 The lengths that some comedians will go to for a laugh! Actor Ed Helms, as dentist Stu Price, pulled out his own tooth in the movie The Hangover. Or did he? Turns out Helms really is missing a tooth, which never grew in. When he was in his late teens, he received a dental implant to make his smile look completely natural.
Helms told People magazine he wasn't exactly eager to remove the implant crown that had served him so well for almost 20 years, but there was no better way to do the famous tooth-pulling scene.
"We started to do different tests with prosthetics and blacking it out and nothing worked," Helms told the magazine. Helms' dentist said it would be okay to take the implant crown out. "My dentist was really into it," Helms said. The rest is movie history!
Congenitally missing ("con" – together with; "genital" – relating to birth) teeth are inherited and actually quite common. More than 20% of people lack one or more wisdom teeth, for example. These would not usually be replaced if missing (in fact, wisdom teeth are often removed) but it's a more serious issue when the missing tooth is in the front of the mouth — and not just for aesthetic reasons.
When a particular type of tooth is missing, it disrupts the pattern and function of the teeth. If left alone, sometimes the existing teeth will shift to close the gap. It's like removing a brick from an arch — the rest of the bricks would fall together in a different formation (or collapse entirely). And when upper and lower teeth don't come together properly, they can't function well.
The best treatment for this type of situation is the one Ed Helms had: a dental implant. They look and function like real teeth and do not attach to or damage adjacent teeth as other tooth-replacement options might.
It is important that a child with a congenitally missing tooth wait until jaw growth is complete — different for every person but usually in the late teens — before getting an implant. Otherwise, the artificial tooth might eventually appear too short when the person has stopped growing. In the meantime, there are temporary tooth replacements that can be made.
If you would like more information about options for congenitally missing teeth, please contact us or schedule an appointment for a consultation. You can learn more by reading the Dear Doctor magazine article "When Permanent Teeth Don't Grow." Dear Doctor also has more on "Teenagers & Dental Implants."