My Blog
Posts for tag: dentures
By Rolin Hills Dental Care, Inc. P.C.
January 15, 2021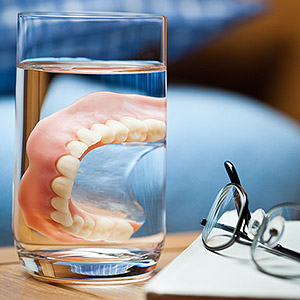 Dentures have come a long way since George Washington's time. Today, they're more comfortable, more secure and more lifelike than our first president's famous hippopotamus ivory appliance.
But one thing hasn't changed: Dentures still require regular care and cleaning. And one of the best things you can do for both your dentures and your health is to take them out at night when you go to bed.
Modern dentures are often so comfortable to wear, it's easy to forget you have them in your mouth. But setting a daily habit of taking them out when you turn in for the night will help you avoid a few potential problems.
For one, wearing dentures 24/7 can increase your risk for both oral and general diseases. Constant denture wear can cause greater accumulations of dental plaque, a thin biofilm responsible for gum disease and inflammation. The increase in bacteria could also make you more susceptible to pneumonia and other diseases.
Wearing your dentures non-stop can also worsen bone loss, a common problem associated with dentures. Normally, the biting forces generated when we chew stimulate bone growth in the jaw. A person loses much of this stimulation when they lose teeth, resulting in gradual bone loss.
Dentures can't replace this lost stimulation, and the pressure they exert on the jaw's bony ridges they rest upon can accelerate the process of bone loss. In time, any bone loss could affect the denture's fit as the bone beneath them gradually shrinks. By taking them out at night, you can help slow the pace of bone loss.
In addition to giving them and your mouth a rest at night, be sure you're also keeping your dentures clean: Take them out and rinse them off after meals and brush them with a small amount of antibacterial soap (not toothpaste) at least once a day. And don't forget to brush your gums and tongue every day with a soft toothbrush (different from your denture brush) to further reduce dental plaque.
If you would like more information on denture care, please contact us or schedule an appointment for a consultation. You can also learn more about this topic by reading the Dear Doctor magazine article "Sleeping in Dentures."
By Rolin Hills Dental Care, Inc. P.C.
October 28, 2018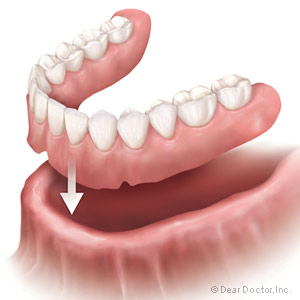 Since as many as 26 percent of older U.S. adults have lost all their teeth, there are a large number Americans who wear full removable dentures, also known as false teeth. You may be one of them.
How much do you know about dentures? See if you can answer the following questions connected with lost teeth and dentures.
Which word refers to the loss of all permanent teeth?

Atrophy
Prosthetic
Edentulism
Periodontal

What is the name given to the bone that surrounds, supports, and connects to your teeth?

Periodontal
Metacarpal
Tibia
Alveolar

What tissue attaches the teeth to the bone that supports your teeth?

Periodontal Ligament
Periodontal Muscle
Parietal Ligament
Achilles Tendon

When a person loses teeth, the stimulus that keeps the underlying bone healthy is also lost, and the bone resorbs or melts away. Pressure transmitted by dentures through the gums to the bone can accentuate this process, which is called

Dystrophy
Atrophy
Hypertrophy
None of the above

A device that replaces a missing body part such as an arm or leg, eye, tooth or teeth is referred to as

Robotic
Imaginary
Exotic
Prosthetic

When teeth have to be extracted, bone loss can be minimized by bone grafting. Bone grafting materials are usually a sterile powdered form of

Allograft (human tissue)
Xenograft (animal tissue)
Both
Neither

Wearers of full dentures must re-learn to manipulate the jaw joints, ligaments, nerves, and muscles to work differently in order to speak, bite, and chew. The name for this system of interconnected body mechanisms, originating with the root words for "mouth" and "jaw," is

Boca biting
Stomatognathic
Periodontal
None of the above

A type of plastic that is artistically formed and colored to make prosthetic teeth and gums look natural is called

methyl methacrylate
beta barbital
rayon
polystyrene

Success in denture wearing depends on

The skill of the dentist
The talent of the laboratory technician
The willing collaboration of the patient
All of the above
Answers: 1c, 2d, 3a, 4b, 5d, 6c, 7b, 8a, 9d. How well did you do? If you have additional questions about full removable dentures, don't hesitate to ask us.
Contact us today to schedule an appointment or to discuss your questions about dentures. You can also learn more by reading the Dear Doctor article, "Removable Full Dentures."
By Rolin Hills Dental Care, Inc. P.C.
December 19, 2017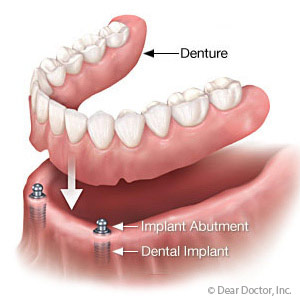 People who've lost all their teeth (a condition known as edentulism) face a decision on how to restore their lost function and appearance. And there are a number of options to consider.
A fixed bridge supported by dental implants, for example, is a good choice for patients who still have sufficient bone structure in their jaw. It's not a good choice, however, for those with the opposite situation — who've experienced significant bone loss which has also affected their facial structure. For them, there's a better alternative that also uses implants for support — the overdenture.
An overdenture is similar to a traditional denture, in that it's made of life-like crowns permanently set in denture plastic, and may either partially or fully cover the roof of the mouth. The main difference, though, is that unlike traditional dentures which rest for support on the gum ridges, an overdenture is supported by strategically placed implants that the denture fits over and connects to — hence the name "overdenture."
There are a number of advantages for an overdenture, especially for patients with bone loss. A removable, implant-supported denture can be designed to replace lost tissues that have altered facial appearance — to "fill in" the face and restore aesthetic harmony. Patients who've previously worn dentures will also often find their speech better improved than with fixed bridgework.
Because it's removable, an overdenture and the underlying gums are easier to clean, which helps inhibit disease and lessen further bone loss. It also allows you to properly care for the denture, which can extend its longevity and reduce future potential maintenance and replacement costs.
If you would like to consider removable overdentures as an option, you should begin first with a thorough oral exam that includes evaluating the status of your bone, jaw and facial structure. From there we can advise you if overdentures are the best choice for you.
If you would like more information on overdentures and other restoration options, please contact us or schedule an appointment for a consultation. You can also learn more about this topic by reading the Dear Doctor magazine article "Fixed vs. Removable."