My Blog
Posts for tag: oral cancer
By Rolin Hills Dental Care, Inc. P.C.
November 27, 2018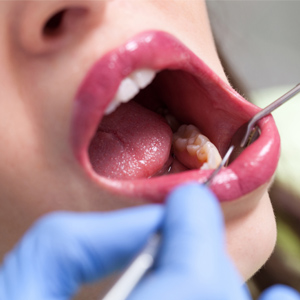 Your regular dental checkups should periodically include an important screening for oral cancer, especially as you grow older. Although oral cancers make up less than 3% of all other types, they're among the most deadly with a 58% survival rate after five years.
Besides hereditary factors, oral cancer is strongly linked to tobacco use, alcohol abuse or diets low in fresh fruits and vegetables. It's also a greater concern as we age: 90% of new cases of oral cancer occur in people over the age of 40, heightening the need for regular screenings. These screenings become all the more important because many early sores or lesions can mimic other conditions like canker sores — without early detection, the disease could already be in advanced stages when it's diagnosed.
An oral screening for cancer involves both sight and touch. We'll first look for any suspicious lesions and red or white patches in the soft tissues of the face, neck, lips and mouth. We'll then feel for any abnormal lumps on the mouth floor, the sides of the neck and in gland locations. We'll also examine all sides of the tongue including underneath, as well as the tissues lining the back of your throat.
If we notice anything that's concerning we may then perform a biopsy by removing a small bit of the suspicious tissue and have it examined microscopically for the presence of cancer cells. We may also remove any lesions deemed pre-cancerous as an added precaution against possible cancer development.
The American Cancer Society recommends an oral cancer screening annually for people forty years or older and every three years for people between the ages of 20 and 39. Even better, we recommend all adults undergo a screening every year. This, along with ending tobacco use and other lifestyle and dietary changes, will greatly improve your chances of remaining free of oral cancer.
If you would like more information on detecting and treating oral cancer, please contact us or schedule an appointment for a consultation. You can also learn more about this topic by reading the Dear Doctor magazine article "Oral Cancer."
By Rolin Hills Dental Care, Inc. P.C.
September 12, 2017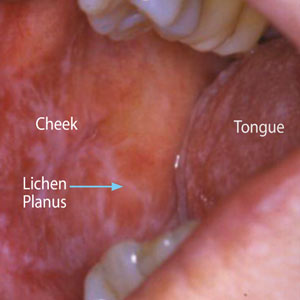 If you've noticed a small sore in your mouth, it's possible you have a non-contagious disease known as lichen planus. Although usually benign, it's still a good idea to have it examined and monitored.
The condition is so named because its lesions are similar in appearance to lichen, the algae and fungi organism often found on rocks and trees. It's believed to be a type of autoimmune disease, in which the body treats some of its own cells as foreign and reacts adversely to them. Certain medications and substances may also cause a lichenoid reaction. Besides the inner cheeks, gums or tongue, lichen planus may also appear on other skin or mucous surfaces on the wrists, legs or fingernails.
When it appears inside the mouth it usually resembles a lacy pattern of white lines or ulceration. Gum tissues may become red and inflamed, with some soreness after brushing or eating. Although there's no known cure for lichen planus, it rarely causes serious problems — in fact, you may not even be aware you have the condition unless pointed out during a dental exam. It may, in time, fade away.
If the lesions do become bothersome (painful, itchy or overly-sensitive), there are some ways to ease discomfort: brushing with a soft toothbrush (to minimize irritation), flossing, and avoiding acidic or spicy foods and beverages which have been known to cause flare-ups. Managing stress is also helpful, and a topical steroid may be prescribed for more severe outbreaks.
Perhaps the greatest concern with lichen planus, though, is it may resemble more serious conditions, particularly oral cancer. The only way to be certain that it is a benign condition is to perform a biopsy on some of the affected tissue. If you notice a problem, be sure to visit us for a complete examination. And regardless of whether you have the condition or not, regular oral cancer screenings, as well as limits on alcohol consumption and stopping use of tobacco, will also reduce your risk of oral cancer.
Odds are if you have a case of lichen planus it isn't causing you any problems. If it does cause you discomfort, though, you can take steps to ease your symptoms.
If you would like more information on lichen planus and similar oral conditions, please contact us or schedule an appointment for a consultation.
By Rolin Hills Dental Care, Inc. P.C.
April 29, 2017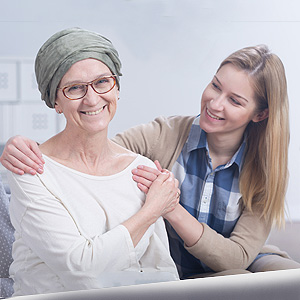 A third of people treated for cancer develop adverse side effects within their mouth. But while these effects can be devastating to teeth and gums, there are ways to minimize the damage.
Treatments like chemotherapy and radiation work by destroying cancer cells. Unfortunately, they may also destroy normal cells. The accumulation of this "collateral damage" ultimately affects uninvolved areas and organ systems of the body. Chemotherapy, for example, can interrupt bone marrow blood cell formation and decrease the body's ability to fight infection.
These ripple effects can eventually reach the mouth. It's not uncommon for cancer patients to develop mouth sores or see an increase in tooth decay or periodontal (gum) disease. The treatments may also inhibit saliva flow: because saliva neutralizes acid and provides other benefits that lower disease risk, dental disease is more likely to develop when the salivary flow is reduced.
The first step to minimizing these effects is to improve oral health before cancer treatment begins. An unhealthy mouth vastly increases the chances for problems during treatment. Cooperating with your cancer physicians, we should attempt to treat any diseases present as soon as possible.
During cancer treatment we should also monitor your oral health and intervene when appropriate. If at all possible, you should continue regular dental visits for cleaning and checkups, and more so if conditions warrant. We can also protect your teeth and gums with protective measures like antibacterial mouth rinses, saliva stimulation or high-potency fluoride applications for your enamel.
What's most important, though, is what you can do for yourself to care for your mouth during the treatment period. Be sure to brush daily with a soft-bristle brush and fluoride toothpaste. You can use a weak solution of one-quarter teaspoon each of salt and baking soda to a quart of warm water to rinse your mouth and soothe any sores. And be sure to drink plenty of water to reduce dry mouth.
While you're waging your battle against cancer, stay vigilant about your teeth and gums. Taking care of them will ensure that after you've won your war against this malignant foe your mouth will be healthy too.
If you would like more information on taking care of your teeth and gums during cancer treatment, please contact us or schedule an appointment for a consultation. You can also learn more about this topic by reading the Dear Doctor magazine article "Oral Health During Cancer Treatment."